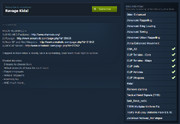 There are a lot of missions made to be played with Ravage. In the following table you'll find a list of all the ones available on the Steam Workshop.
They all require Ravage and CBA. On the Steam Workshop page of each mission, there is a button titled Subscribe. Click on that and Steam will download the mission file in the background. It will also update it every time there's a new version of the mission file available.
Gunter Severloh has created 2 Steam Workshop collections for single player and multiplayer missions to make it quick and easy to find what you want.
You will also see on many of the Workshop pages a list of all the mods you need. The screenshot on the left (click to enlarge it) shows an example of this. If you already subscribe to the mod required (on Steam), it will show a green tick. If it's not ticked, you can click through to the required mod and subscribe to it. Sadly not all mission authors use this feature and not all mods are available on Steam (Ravage isn't), so pay attention to the description to see what else may be needed.
These missions are the responsibility of their authors. If you have any difficulty getting them to run or encounter bugs, contact the author. Do not comment on this page as it's impractical to keep up with every aspect of every version of every mission.
The table has been constructed to be sortable. Click on the arrows next to any heading to sort the table based on that column. For instance, you may want to see what missions are single player or find ones by an author whose work you've enjoyed. The date column shows when the mission was last updated and is listed in day, month, year order.
This page was last updated on the 20th of February 2017.